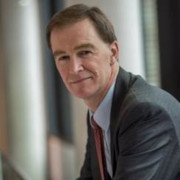 Professor Mark Spearing
MA, PhD
EpiGen Board Chair, Vice President, Research and Enterprise, Professor of Engineering Materials
Professor Mark Spearing is President and Vice-Chancellor (interim) of the University of Southampton. This interim appointment follows the retirement of Professor Sir Christopher Snowden on 08 March 2019 and will continue until a new substantive President and Vice-Chancellor is in post.
Professor Spearing's permanent position is Vice President, Research and Enterprise, at the University of Southampton. He is also a Professor of Engineering Materials in the Faculty of Engineering and Physical Sciences. Professor Spearing was previously Head of the School of Engineering Sciences at the University of Southampton.
Professor Spearing received his Ph.D from Cambridge University Engineering Department in 1990, working on the fatigue damage mechanics of carbon fibre composites. He worked as a research engineer at UC Santa Barbara from 1990-92 where he developed models for the failure of high temperature ceramic materials.
From 1992-94 he was an engineering specialist at BP Research and subsequently a research engineer for Carborundum Microelectronics, where he was a member of the electronic packaging technology development team. From 1994 to 2004 he was on the faculty of the Department of Aeronautics and Astronautics at the Massachusetts Institute of Technology, receiving tenure in 2001, and being appointed Full Professor in 2004.
Professor Spearing's research focuses on developing mechanism-based models and design approaches for the failure of advanced engineered materials. His research activities involve advanced composites, layered materials and materials, structures and processes for microelectromechanical systems (MEMS) and other Microsystems. He has particularly worked on the development of wafer bonding processes for the creation of 3-D structures in MEMS and other Microsystems. This activity has involved developing an understanding of the interaction between surface chemistry, local and wafer level deformation mechanisms and tool and process parameters. He also works in the area of structural health monitoring of composite structures. His educational activities focus on integrating the teaching of materials and structures.
In November 2004 Professor Spearing received a Royal Society Wolfson Research Merit Award. He is an Associate Fellow of the American Institute of Aeronautics and Astronautics and was chairman of that organization's Materials Technical Committee from 1997-1999. He is also a member of the Materials Research Society and the American Society of Mechanical Engineers. He is an editor of J. Microelectromechanical Systems, the European Editor of the Journal of Composite Materials and an editorial board member of Nanotechnology. He has published over 160 papers including over 100 in refereed journals. He is a co-inventor on 5 patents. He has organized Materials Research Society symposia on the Materials Science of Microelectromechanical Systems in 2000, 2001, 2007 and 2008. Professor Spearing twice won the MIT Aero/Astro Department's award for outstanding teaching in 1995 and 1997, and its award for student advising in 1999 and 2000.