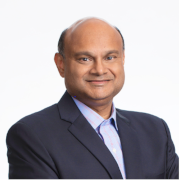 Deputy Chief Executive (Corporate) General Counsel A*STAR
Mr Suresh Sachi joined A*STAR in April 2002. He is a qualified lawyer, admitted to practise law by the Supreme Court of the Republic of Singapore, and is also a qualified patent agent.
As the Deputy Chief Executive, he oversees the corporate services divisions of A*STAR, its research entities and A*ccelerate Technologies in performing the functions of Administration and Procurement, Corporate Communications, Finance, Information Systems & Technology, Infrastructure Planning and Facilities Management, Human Resources, Office of Science Communications & Archives and Legal. His role is to ensure that the Corporate Group provides customer-centric services to support A*STAR's R&D operations and that A*STAR's resources are deployed in an efficient manner.
Mr Sachi concurrently serves as A*STAR's General Counsel, taking charge of all legal and intellectual property (IP) matters. He is responsible for establishing, implementing and maintaining A*STAR's legal, IP, legal risk management and compliance policies.
Before joining A*STAR, Mr Sachi was in private legal practice in a leading law firm where he was a partner in the Technology and Intellectual Property Department. He has represented many public and private organisations, including A*STAR Research Institutes, local and foreign institutes of higher learning and has significant experience working with multi-national corporations, public listed companies, small and medium enterprises as well as hi-tech start-ups.
Mr Sachi spearheaded a number of national efforts to coordinate and streamline legal and IP terms across Singapore's public agencies, including the Public Sector Master Research Collaboration Agreement (MRCA), bringing together all public sector agencies engaged in R&D in a single research collaboration agreement; the Master Clinical Trials Agreement across all public sector trial centres; streamlining and aligning public sector RIE grant terms and conditions and establishing a National IP Protocol for Singapore.
Mr Sachi has served on a number of national committees, including the Committee on the Future Economy, the IP Hub Steering Committee, the Intellectual Capital Working Group and the Intellectual Property Office of Singapore (IPOS) Mentorship Funding Scheme Committee.
He currently serves on the board of IPOS as well as the board of the A*STAR Research Entities that houses all the A*STAR research institutes and research entities. He was a former member of the board of governors of and an advisor to the IP Academy. Mr Sachi is a founding member and past president of the Licensing Executives Society (LES) Singapore. He served for more than 10 years on the Ethics Committee of the Singapore Eye Research Institute and is currently a member of the SingHealth Centralised Institutional Review Board.
As a specialist in intellectual property and technology transfer, Mr Sachi is a frequent speaker at the Global Forum on Intellectual Property and other forums by the World Intellectual Property Organisation, LES Singapore, the IP Academy, and the Law Society of Singapore. He is an active coach and trainer in the IP landscape in Singapore. He was named in the 2018 IAM 300 magazine as one of the World's Leading IP Strategists (IAM 300).
Mr Sachi holds an LLB from the Faculty of Law of the National University of Singapore and attended the Advanced Management Programme at INSEAD, Fontainebleau in 2016.